Presentation
Palazzo Gaudiosi D'Urso is situated in a medieval village surrounded by the green hills and mountains of the province of Salerno. It is an old totally restructured building overlooking a large square in the heart of the old centre of Valva.
The descendants of the family offer the guests 2 spacious, panoramic, elegant apartments overlooking the village and the suggestive surrounding mountains.
The apartments are provided with linen and kitchenware and can accommodate each 5 persons.
---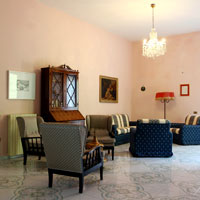 See the pictures
Apartment A
(135 m2) : 2 bedrooms, a large hall, a dinette kitchen and a bathroom with shower. Balconies. It also has a quiet panoramic terrace where guests can enjoy the typical sounds, smells and colours of this place which seems isolated from the rest of the world.
---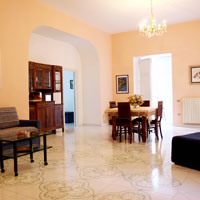 See the pictures
Apartment B
(90 m2) : 1bedroom, a large hall with two confortable sofa beds, a pouf bed, a dinette kitchen and a bathroom with shower.
A holiday spent in these apartments is characterized by a homely atmosphere deriving from the family's traditional hospitality.
From the landlords, guests can buy an exquisite and genuine extra virgin olive oil that has been a typical product of Valva since 1600.
Valva is an old village of medieval origin with about 2,000 inhabitants. It lies in the High Sele Valley on a calcareous protrusion dominated by the enchanting Villa of the Marquises d'Ayala-Valva and has a wonderful view on the Valley.
"Over seventeen hectars wide, Villa d'Ayala of Valva… is considered, even by treatises of botany, as one of the most beautiful and flourishing in Italy" (from the magazine "Bell'Italia").
In summer, in the charming Amphitheatre of Villa d'Ayala, theatrical shows and concerts are performed by the most prestigious and famed international artists.
Other attractions are "the taratella festival" (a very special pasta of Valva) and "the truffle festival", held in the neighbouring village of Colliano in October.
Valva is an excellent starting point for trips to the nearby WWF oases, to the hot springs of Contursi and to the surrounding mountains.
Trips by jeeps and local guide are available. You can easily reach Paestum, Amalfi, Positano, Sorrento, Pompei and Naples in less than one hour thanks to the Salerno-Reggio Calabria motorway.